John Hong 교수, 미국건축가협회 2019년  AIA 상 수상
Prof. John Hong received AIA International Region Award 2019
[gtranslate]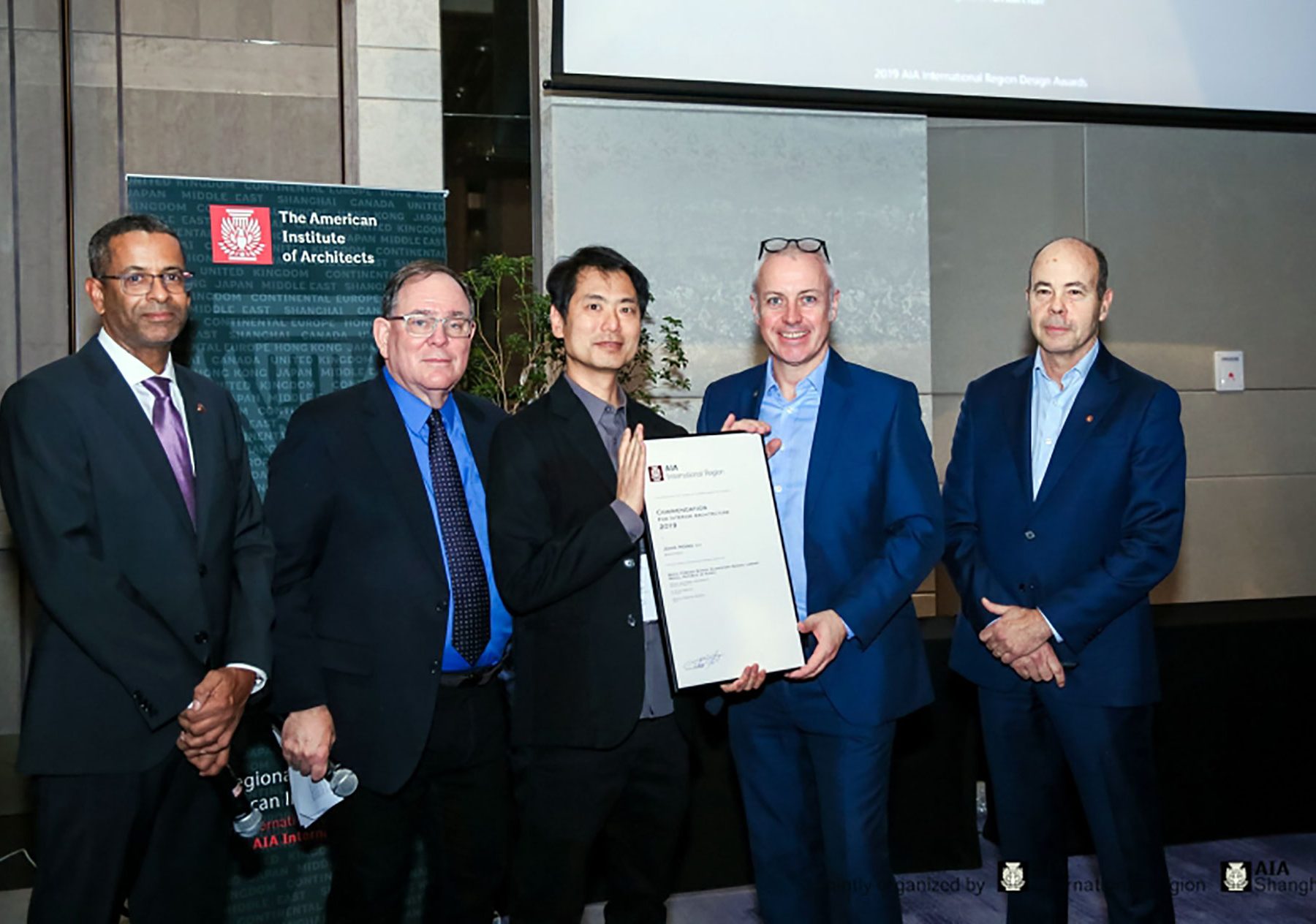 서울대학교 건축학과 존 홍(John Hong) 교수는 2019년 11월 16일 미국 건축가협회 (American Institute of Architects, AIA)에서 수여하는 2019년 AIA 상을 받았다. 존 홍 교수는 서울외국인학교 (Seoul Foreign School)의 초등학교 도서관 설계의 독창성을 인정받아 이 상을 수상하게 되었다. 미국건축가협회는 매년 전 세계의 건축가를 대상으로 건축설계, 실내설계, 도시설계 부문에서 가장 독창적이고 우수한 디자이너를 선정하여 AIA 상을 수여하고 있다.
Prof. John Hong received AIA International Region Award at ceremony in Shanghai, 16 November 2019.
His award winning architectural project is the SFS Elementary School Library. 
Below is a description of this project, quoted from the website (https://projectarchitecture.com/sfs-es-library/)
The design for this International elementary school library blends flexibility with specificity, addressing the scales of growing children through the careful integration of architecture, furniture, and learning materials. Prior to renovation, the library functioned as a generic repository for books and desks without regard for how children learn. Even as the existing building offered a high floor-to-ceiling volume, the upper and lower portions of the curtain wall were covered creating a low, pancake-like interior.
Through addressing the vertical dimensions at the personal scale, an ecosystem of customizable spaces for children and adults is created. The odd outline of the existing floor-plate was taken as a starting-point clue. The north circular envelope now houses a more free-form area connoting ideas of an urban park. Modular and moveable semi-circular shelving offer various spaces where parents, teachers, and children can learn in groups. Next to the glazing, a hammock mezzanine blends the playground with the library: The space underneath is canopy-like, while above, children can imagine floating above the clouds.
On the south side, the rectangular envelope lends itself to a more dense 'city block' feel. Book stacks with integrated desks act as reconfigurable building blocks for individual and collective study areas. Rising above this urban field, four reading towers further trigger the imagination of a micro-urban experience. Their forms intentionally reference historical structures connecting the library with future memories. Finally, a large conference room with folding partitions can either extend the library's activities or close off into a private realm for teacher meetings.